Chef Wade's Recipes
At Cheakamus Centre, we believe in good food that promotes social and environmental responsibility. We care about the entire food cycle from soil to table to soil. Locally sourced and thoughtfully prepared meals provide opportunities to come together and share conversation in a community setting. We are committed to delivering the best food we can to ensure that our students and guests are healthy, happy and energized!
Try some of Executive Chef, Wade Rowland's recipes today!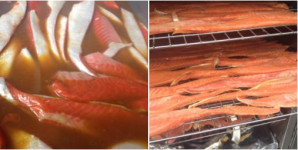 Maple Salt-Cured Salmon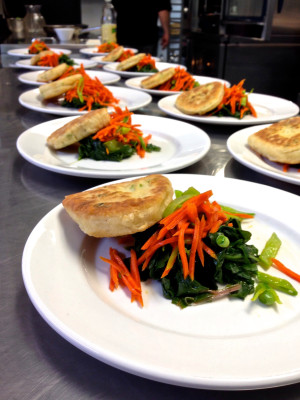 Bannock
Maple Dijon Vinaigrette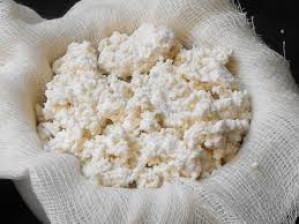 Ricotta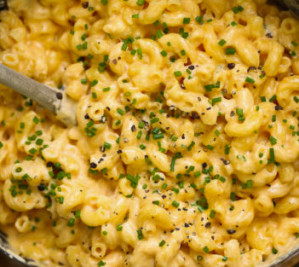 Macaroni and Cheese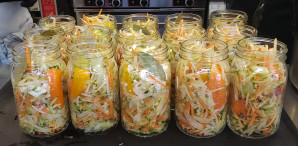 Pickling Vegetables
This Maple Salt-Cured Salmon is a great way to add flavour and texture to your salmon. The process is a quick cure method using the salt and maple syrup to create a curing brine on the top layer of the salmon. This preparation uses two types of cooking, the cure and dry heat methods. When you roast or BBQ the salmon to finish it you will be presented with a sweet and salty, yet still moist fish.
Try Chef Wade's Maple Salt-Cured Salmon Recipe!
Bannock is the name used by First Nations peoples for a variety of flat quick bread, tea biscuit or any item baked or cooked from grain. A bannock is an important part to any gathering as it symbolic of sharing resources with each other. It can be roasted on sticks, deep fried, pan fried, baked on hot rocks or in an oven. Some use yeast while others are leavened with mineral ingredients such as baking powder or soda. Some have no leavening at all. They come in many shapes and sizes; the large ones usually cut into sections before serving.
Try Chef Wade's Bannock Recipe!
This Jerk Spice is a Caribbean spice blend using onion, allspice, hot peppers and oil. Traditionally it is made right at home from available varieties of pepper and onion and will have local, even household variations. Jerk can be any where from mild piquant to radioactive heat and is a great addition to any poultry dish! Works well with pork, fish and root veg as well.
Try Chef Wade's Jerk Spice Recipe!
Healthy Baked Apple Oatmeal Squares are packed with nutritious ingredients and are a filling breakfast or on-the-go snack!
Try Chef Wade's Apple Oatmeal Square Recipe!
Our Maple Dijon Vinaigrette is great for when you need a quick and versatile dressing to whip up for salads or marinating chicken, salmon or pork. We use the maple syrup extracted from our own broad leaf maple trees for this recipe (Learn more about maple tapping with Chef Wade here).
Try Chef Wade's Maple Dijon Vinaigrette Recipe!
Ricotta is an Italian fresh whey cheese made from sheep, cow, goat, or Italian water buffalo milk whey left over from the production of other cheeses. Like other whey cheeses, it is made by coagulating the proteins that remain after the casein has been used to make cheese, notably albumin and globulin. Making Ricotta is a also a great way to use up stale dated dairy such as milk or coffee cream.
Try Chef Wade's Ricotta Recipe!
This is a great simple Focaccia Pizza Dough recipe that has the advantage of being Vegan, so no need to worry about egg or dairy allergies. It can be made same day to use but you get a much better flavor and texture by letting it proof overnight in the fridge. The advantage of pre-baking the crust rather than building on raw dough is you can prepare this recipe in large batches and freeze the par cooked crust for later use. The par-cooked crust is far easier to handle and simplifies the final cooking sequence, making it more manageable for younger cooks to build their own.
Try Chef Wade's Focaccia Pizza Dough Recipe & Tomato Compote Recipe!
Everyone loves Mac and Cheese, not everyone loves their veggies. This recipe satisfies everyone at the table. Delicious and deceptively nutritious!
Try Chef Wade's Macaroni and Cheese Recipe!
This is a good non-specialized Pickle Brine that can be used for just about any purpose. Mild on the salt, it produces a sweet/sour brine that is palatable on its own. I opt to strain out my spices as I like to work with "clear" brine unencumbered by seeds and herbs. Helps keep a consistent flavour profile and means I don't have to strain it later. Wherever we use the pickled vegetables in our recipes we also use the brine as an ingredient in the salad dressing and stir-fry sauces and I don't want seeds. You can play with the spices you want to use which is why the recipe does not specify. I use dry dill, coriander and mustard seed but there are many many spices and combinations you can use.

Try Chef Wade's Pickling Brine Recipe!