Overview
"Our experience has always been exceptional here. The staff are knowledgeable, passionate, helpful and a lot of fun. They have always made this trip a memorable experience for our kids. Thank you for everything you do for our kids!"
~Leah Dosdall, Grade 4 Teacher - Tillicum School Annex April 2018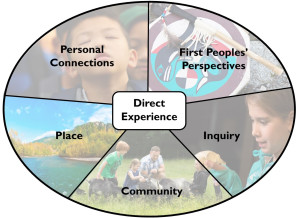 Guiding Principles
At Cheakamus Centre, we are committed to providing excellence in teaching and learning in, for, and about nature. Building on the legacy of the Outdoor School program, our programs use a range of outdoor spaces on the 165 ha (420 acre) ecological reserve to facilitate experiential learning for students from Grades 3 through 12. These experiences take place on extensive teaching trails, in forest shelters and alongside spawning channels and ponds. Additionally, we have special resource classrooms, amphitheaters, breakout spaces and an authentic Coast Salish longhouse.
All of our educational programs are tied to the BC curriculum, ensuring that time spent outdoors supports learning objectives and core competencies. Our instructional team has developed a set of guiding principles or themes providing a framework that informs our program design and development. The info-graphic illustrates these principles and how they support and enhance curriculum connections.

As educators, we believe that a place-based approach promotes engagement and achievement through hands-on experiences in nature. We invite you and your students to find meaningful and engaging learning connections while exploring our ecological reserve.

Click here for a message from the Director of Educational Programs.
Place
Engaging the senses through hands on experiences in ancient forests, salmon streams, working farm and more.

Inquiry
Inspiring curiosity, exploration and discovery of ecosystems and their interconnections.

Community
Developing personal and social awareness through shared living and daily responsibilities.

First Peoples' Perspectives
Integrating traditional knowledge in our experiential studies.

Personal Connections
Reflecting on our role and relationship to the natural world.