Summer Learning Institute
"Both the frameworks of inquiry and using nature to connect to place and culture have helped to refine applications. We will use in our Forest School at school programming. The experience with the longhouse, Alice and all staff that day really helped me solidify ways to connect place, culture, and nature in an authentic way. It also helped me build capacity and confidence in building that sense of community in my home school experience. I found this training to be very well-done - I valued its emphasis on making space. Space to digest, reflect, build community, and learn it. It ease-fully and authentically brought the lens and contribution of participants and multiple staff/consultants into the fold. This modeling was just as powerful as the explicit teachings."
****
"It really validates what I do in my school with my students in relation to placed-based learning. The longhouse experience and traditional walk with Alice was very informational and lovely. I think everything was organized very well. All of the topics covered were important and allowed for personal growth."

****
"I feel more confident in continuing to grow and develop what I do in my practice. Revisiting the Centre has been very special. Meeting individuals that I have met before and meeting new staff has been wonderful. It is a caring and warm environment with room for work and fun, It is a "jewel" - a place to stop, give pause to learn and feel deeply - thank you."

****
- Summer Learning Institute participants, July 2019

​Explorations in Environmental and Indigenous Cultural Learning: A Three-Day Educator Retreat
The Summer Learning Institute Educator Retreat is a specially designed overnight program for adult educators interested in deepening their understanding of instructional strategies and approaches in place-based, environmental and Indigenous cultural education.

Experienced educators, as well as those who are new to the field are sure to gain through this 3-day experience. This retreat is ideal for teachers, outdoor program leaders, post secondary students and any other educator looking for an immersive professional development opportunity.
Overview:
Length: 3 days, 2 nights (optional early arrival available)
Dates: Tuesday, August 4, 2020 – Thursday, August 6, 2020
Cost: Early Bird $475 until May 8, 2020 & Standard tickets $600 after May 8, 2020
Cost includes all lodging, meals and workshop sessions *Prices do not include applicable fees and tax
Workshop Goals

Explore and evaluate a variety of outdoor and environmental instructional approaches and how these can be situated in, with and about place.
Develop and extend your knowledge of Indigenous ways of connecting learning to place.
Grow personal networks of outdoor and place-based learning practitioners.
More questions? Click here to learn more from our FAQs page.
Download the Summer Learning Institute Retreat Flyer
A Successful Inaugural Summer Learning Institute!
This past July, we were honoured to host an amazing group of educators from across the province as part of our 1st annual Summer Learning Institute. For three full days, participants explored place-based practices and indigenous approaches to learning while connecting with facilitators and developing a strong sense of community.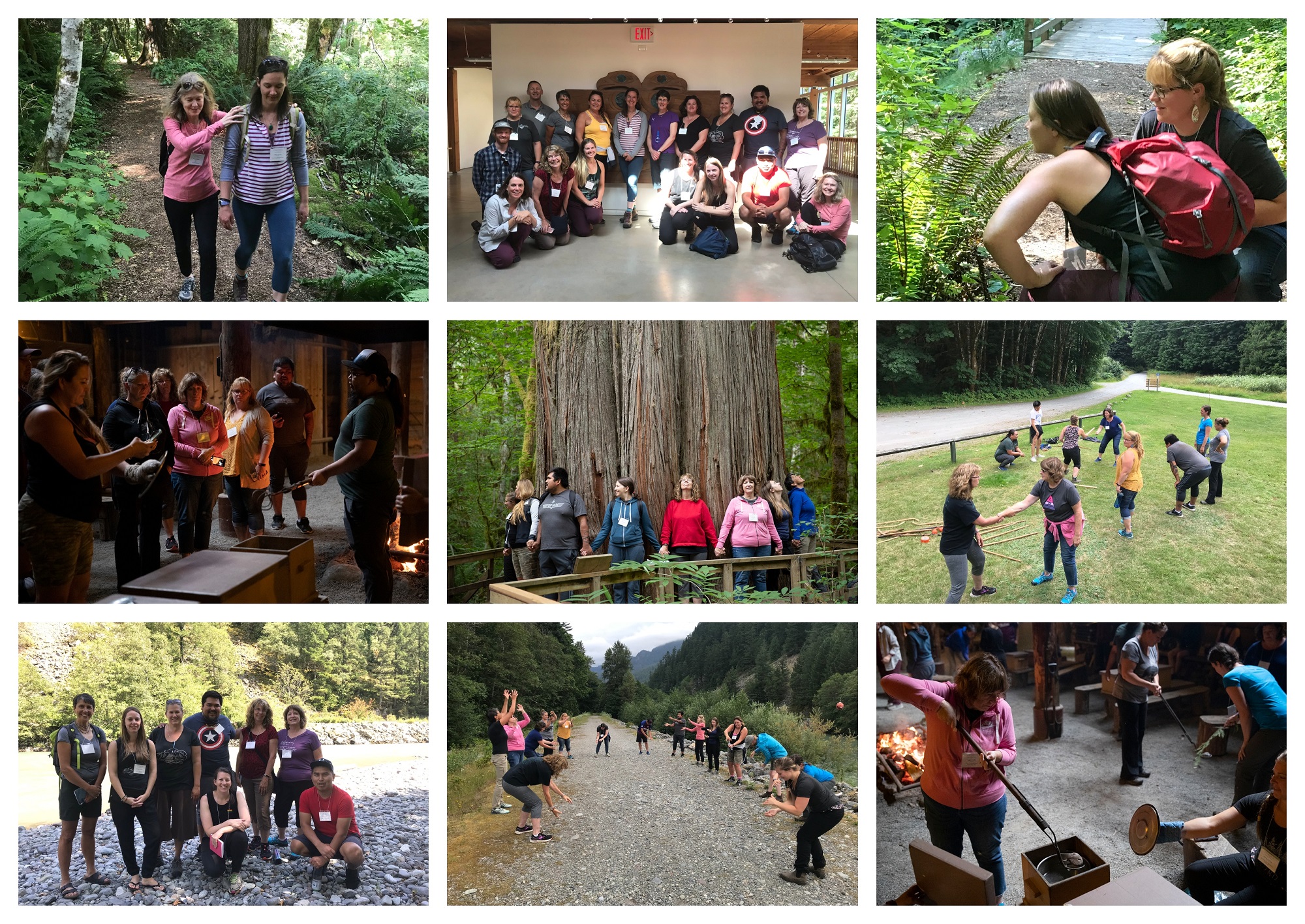 For more information, please contact: