Meet Our Team
*in alphabetical order
We are delighted to introduce our Program Team who will be ensuring our visiting teachers, students and volunteers have a fun and memorable learning experience at Cheakamus Centre. Joining Conor AKA "Steelhead" and the rest of the core team are new and returning staff members who are multi-talented and bring many years of experience and passion to their positions:
Mya Bordeau
Cultural Education Facilitator

Mya was very excited to join Cheakamus Centre last fall as a Cultural Education Facilitator. This past summer, Mya participated in an intensive four-week Indigenous Youth Cultural Interpreter summer training program held at Cheakamus Centre. She developed many instructional skills through this program and is elated to be able to provide interpretation to students and adults alike. Mya's Skwxwú7mesh Nation background and knowledge in traditional dancing, drumming, singing, cedar weaving, and other traditional teachings will provide a unique experience for students and guests that visit Cheakamus Centre. Mya has previous experience working as a youth leader for the spring break camp at the Chief Joe Mathias Center and is looking forward to sharing her obtained knowledge; but also feels fortunate to be able to increase and advance her skills as she continues this journey.
Erica "Tundra" Ellis
Program Support Specialist

Erica earned a Bachelor of Science degree with Honours in Natural Resources Conservation from the University of British Columbia. Her professional experience includes working as an education guide at the Sea to Sky Gondola in Squamish, and in a supervisory role with Grouse Mountain in North Vancouver. Erica has detailed knowledge of the region's flora and fauna, and proven experience in leading and mentoring youth. Erica is a life-long learner and is looking forward to sharing her passion for the natural world with visiting students and teachers.
Emma Frank
Cultural Education Facilitator

Emma was a participant of the 2019 Indigenous Youth Summer Leadership Program at Cheakamus Centre. Through this experience, Emma strengthened her confidence and leadership skills, as well as her ability to be a knowledgeable and supportive role model. Emma's previous involvement in the Aboriginal Eco-tourism Training Program at Vancouver Island University/North Island College and the Aboriginal Youth Ambassador Training Program at the Squamish Lil'Wat Cultural centre will prove invaluable in her new role at Cultural Education Facilitator for Cheakamus Centre. Her experiential knowledge, strong interpersonal and communication skills, plus her deep interest for sharing her culture will benefit and support an already strong cultural programming team at Cheakamus Centre. She is so looking forward to an incredible year ahead!
Nicolette "Wander" Gagnon
Environmental Program Coordinator

Nicolette was elated to join the programming team at Cheakamus Centre! She earned a Bachelor of Science in Environmental Science, with a focus on ecosystems at the University of New Hampshire. She has spent much of the last eight years moving between the West Coast and East Coast of the United States eagerly learning as much as possible about the natural world. Her outdoor and experiential education experience varies from trip leading in the White Mountains of New Hampshire to teaching about waterbirds in California. In her previous position, Nicolette was the Assistant Director at the University of Maine 4-H Camp and Learning Center at Bryant Pond. She is so thrilled to share her passion for the outdoors and support the vital student experiences that happen daily at Cheakamus Centre. When not working, Nicolette enjoys trail running with her dog, rock climbing, baking, and wandering in the forest with her plant ID book.
Alice Tsawaysia Spukwus Guss
Cultural Education Facilitator

We are thrilled to have Alice "Tsawaysia Spukwus" join us for another year of programming at the longhouse. Alice is masterful at bringing innovative learning opportunities to all people through workshops, drumming, singing, dancing and storytelling. She is a member of the Squamish First Nation and is actively involved in the preservation of her language, culture and heritage. Alice brings over twenty years of education experience in First Nations communities as a director of education and an employment coordinator, and as an instructor of traditional arts and crafts. She is an avid participant in healing Tribal Journeys, and co-produced several documentaries including Squamish Nation: Stories from the Heart, Tribal Journeys, and Riding with the First Nation's Snowboard Team . During the 2010 Olympics she coordinated her family's sea-going canoe display, Pekultn, in honour of her father. Alice is learning something new everyday and keen to share her knowledge with visiting students, teachers, and parents, to continue to have a positive impact.
Harriet "Skye" Haines
Program Administrative Coordinator

Harriet earned a Bachelor of Science degree with Honours in Sport and Exercise Science at Leeds Metropolitan University, in England. She enrolled in elective courses in outdoor education and outdoor adventure activities where a love for outdoor education was inspired through designing and teaching programs in the forest to visiting school children. She has also gained experience leading physical exercise and outdoor activities in a variety of different schools across South West London, as well as led and organized whole-school sports days which included training and coordinating 15 sports leader volunteers from the neighbouring high school. In her previous role as Program Leader for Cheakamus Centre, Harriet consistently provided a warm, welcoming approach and quickly build positive relationships with students and visitors to ensure their needs are catered for and that their experience is seamless, meaningful and memorable. In her new role as Program Administrative Coordinator, she will bring her excellent administrative and communication experience to help set her up for success. Harriet is a life-long learner and is looking forward to sharing a love and appreciation for the outdoors/being in nature.
Sam "Ruby" Hoar
Counsellor Supervisor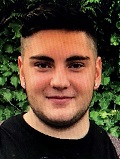 Sam is excited to be back at Cheakamus Centre to expand on the knowledge and experience he earned as a High School Counsellor for the Outdoor School (ODS) program. Currently, Sam is working at Mr. Pets where he has been learning a lot about animals (which he loves), all while developing his customer service and interpersonal skills.
Sam is very familiar with the ODS program and can assist counsellors, students and guests in providing them with the information and guidance they require. Sam is so looking forward to continuing to build his confidence and leadership skills by taking on new challenges and to become a mentor for other counsellors and youth. He aspires to become a teacher in the future and knows that this experience will get him closer to his dream!
Matt "Rapid" Houston
Program Manager

Matt has worked in the field of outdoor education for over a decade and brings experience from several different organizations. Matt began working primarily in adventure education and progressed to leading expeditions throughout Canada and internationally. Previous work experience includes: YMCA Camps, NOLS, Outward Bound, the Outdoor Education Group and Boreal River. Prior to joining the Cheakamus team, Matt was the Director of Outdoor Education at YMCA Camp Pine Crest in Ontario. Matt's education includes a BSc. in Environmental Science and an MES. in Nature Based Recreation and Tourism. When not at the centre, Matt spends as much time as possible climbing and kayaking in the Sea to Sky corridor. Matt is thrilled to be continuing his role as Program Manager for Cheakamus Centre and looks forward to helping facilitate valuable experiences for everyone that visits the site.
Heidi "Glacier" Lessman Simm
Environmental Learning Teacher

Heidi was thrilled to join the Cheakamus Centre Outdoor School program for a third year as an Environmental Learning Teacher. Heidi completed her degree in Geography and Natural Resource Management at the University of Northern BC and started her career working with BC Parks and Water Resources. She was introduced to teaching experiential, environmental and outdoor education in New Zealand and the Yukon Territory. These experiences as a teacher were transformative and she has worked with a variety of schools and experiential education programs in BC ever since. Heidi has worked with programs such as the Sea to Sky School for Sustainability Education, the Explore Program at Collingwood School and the Sea to Sky School District. She has also designed and delivered Zero Waste and Sustainability Workshops in the Squamish to Lillooet Region for several years. Heidi recently completed Mindfulness for Educators Training. She believes that spending time in nature is a perfect classroom for mindfulness. When Heidi is not teaching, she enjoys spending time in the forest or by the ocean with family and friends.
Aura Ses'emay Lewis
Cultural Support Facilitator

Aura is excited to be back for another year to support the cultural programs at the longhouse. Aura has a genuine artistic talent, including over ten years experience with wool, and more recently experimenting using plants for Indigenous dyeing techniques with the students . A lifelong learner, she loves sharing with others her knowledge of native wild edible and medicinal plants. She is extremely grateful to have learned from Local Elders and educators about the uses of plant species specific to Paradise Valley, where Cheakamus Centre resides. She is honoured to carry the nickname Ses'emay, which means "bee" in the Sḵwx̱wú7mesh (Squamish) language - it reminds her to help spread traditional knowledge with purpose and gentleness.
Aura is a member of the Métis Nation and is of Cree and Otipemisiwak descent. She is committed to supporting inclusive, authentic, and joyful learning experiences for all students, and helping to instill a deeper understanding and respect for First Nation culture. In addition to her work at the longhouse, Aura contributes in other experiential learning areas; most recently, coordinating the student gardens and the new Cheakamus Centre Farm-to-Plate program. Aura's previous work experience includes leading multi-day hiking, camping and canoeing trips for the YMCA. Aura resides on property with her husband, two young daughters, a dog, and the occasional transient bear.
Teresa "Granite" Rowley
Environmental Learning Teacher

We were delighted to welcome back Teresa for a fourth year on the program team. Teresa brings with her a strong background in outdoor experiential and environmental education. She has worked with a diverse group of learners in a variety of education settings beyond the classroom, including outdoor school, day and residential camp programs, wilderness trips, local field studies, and service learning with community organizations. Teresa holds a Masters degree in Environmental Education and Communication, and specializes in curriculum integration. Prior to joining Cheakamus Centre, Teresa most recently served as the department head of the TREK Outdoor Education Program at the Vancouver School Board. Before that, Teresa was a teacher in the Explore program at Collingwood Independent School, camp director at Camp Madawaska, and mountaineering instructor at Outward Bound Canada. Teresa has lived in the Sea to Sky Corridor for over three decades. Her childhood experiences exploring the temperate rainforest and waters of Howe Sound continue to inspire her work today.
Ty Smith
Cultural Program Coordinator

Ty grew up on the rural shores of Lake Simcoe, Ontario., where he gained an early appreciation for the natural environment and learned his first canoe paddling moves. This led to 10 great summers as a counsellor, and then director, at a canoe tripping camp for children ages 8-15. Eventually, the rivers beckoned, and Ty began a career in adventure tourism as a Whitewater raft guide and trip leader. Among other destinations in Canada and abroad, Ty has worked on rivers in Quebec, Chile and Costa Rica, completing a near-endless summer.
More recently, he has led several week-long expeditions which have included experiential education and cultural interpretation with local Indigenous guides. Some trips on the Magpie River in Quebec have also brought together members from multiple Innu First Nation communities in that region. Besides strengthening bonds between remote villages, the trips helped form connections to an area of traditional territory rarely seen. In part, this led to a strong Innu opposition to proposed damming of the Magpie and a temporary halt to all hydro-electric development plans. A rewarding and powerful experience to be part of, to say the least.
Ty has a bachelor's degree with honours and a master's degree, both in environmental science. The field research for his MSc was conducted in Northern BC and focussed on contaminants in rivers.
He brings his experience as a team leader and facilitator of impactful and fun outdoor learning opportunities to Cheakamus Centre. As Cultural Program Coordinator, he is looking forward to helping our great program staff share Skwxwú7mesh and Coast Salish culture in this inspiring place.
He also plays mandolin, guitar, sings, and kayaks in his spare time.
Natasha "Mountain" Way
Program Support Specialist

Natasha has extensive experience working in outdoor education and was thrilled to join the Cheakamus Centre programming team in the position of Program Support Specialist. Natasha's previous work experience as an instructor and guide, include working for North Cascades Institute, The Adventure Group and Stewardship Pemberton Society. In her role at Cheakamus Centre, Natasha's knowledge in teaching children in an outdoor setting, as well as local species of flora and fauna, will prove invaluable in providing an unforgettable and positive experience for students and visitors.
Matthew Siýámken Williams
Cultural Education Facilitator

Matthew Williams has spent much of his childhood at the longhouse at Cheakamus Centre, supporting and teaching the Skw'une-was program since the age of 13. His grandmother, Keek-yik (Ann Billy) first introduced him to Skwxwú7mesh teaching methods and guided him in the development of his practice by learning directly from family members. In addition to his on-going contributions to provide outstanding indigenous cultural education at Cheakamus Centre, Siýám ken was also a key member of the Squamish Lil'wat Cultural Centre project and provided cultural interpretation mentoring to Aboriginal Youth Ambassadors in preparation for the 2010 Olympics. Leading by example, Siýám ken shares singing, drumming, fishing, woodworking, cedar weaving and ancestral language skills with thousands of students ensuring the continuity of these practices and inspiring others to learn more. Siýám ken is an avid road cycler, music curator, and is on the path to become a fluent Skwxwú7mesh language speaker.

Henry Khapquolanogh Williams
Cultural Education Facilitator

Henry Williams is a key member of the Skw'une-was instructional team. He brings a wealth of knowledge related the history and practices of Skwxwú7mesh people; including a deep understanding of the geography of the region. In addition to teaching activities here at the Cheakamus Centre, Khapquolanogh contributes to archeological, mapping, and historical projects for Skwxwú7mesh Nation in collaboration with a range of post-secondary institutions. His family has lived in this area for centuries and Khapquolanogh frequently shares information about points of significance and family markers. He is a proud father and grandfather who demonstrates through his actions that a life-long commitment to learning, leadership, and community-building has the power to transform and shape a better understanding of the importance of indigenous knowledges. When relaxing, Khapquolanogh is likely to be volunteering at one of a number of organizations he contributes his time and energy to or spending time outdoors.