Meet Our Team
*in alphabetical order
We are delighted to introduce our Program Team who will be ensuring our visiting teachers, students and volunteers have a fun and memorable learning experience at Cheakamus Centre. Joining Conor AKA "Steelhead" and the rest of the core team are new and returning staff members who are multi-talented and bring many years of experience and passion to their positions:
Alex Arboleda
Cultural Program Coordinator

Alex has a strong foundation of knowledge related to local Indigenous history and customs, which he loves sharing with others. Alex enjoys working with people of all ages and believes strongly in educating today's youth in Indigenous cultural practices and values. Alex earned a degree in Archaeology, with a focus on First Nation studies, from Simon Fraser University. Alex brings several years of work experience in customer service and outdoor settings, which includes working as a Nature Guide and Supervisor at Capilano Suspension Bridge. Most recently, Alex worked at the BC Sports Hall of Fame as a research coordinator. This role involved working with many Indigenous athletes and communities to help build the knowledge used in their new Indigenous Sports Gallery. Alex is excited to join the Cheakamus team and to continue sharing his passion.
Jason "Heron" Bigelow
Program Support Specialist

Jason was excited to join the programming team this fall in the new position of Program Support Specialist. Jason is a friendly, familiar face at Cheakamus Centre and has been involved in some capacity since 2008. He is an avid Cheakamus Centre volunteer, and has held the roles of Volunteer Counsellor Trainer, Program Leader and the Vice President of the North Vancouver Outdoor School Alumni Society Board of Directors. Jason has earned a Red Seal certification as a machinist and worked for a gearbox refurbishment shop for five years. Most recently, Jason enjoyed his summer employed as a sea kayak guide and instructor for Deep Cove Kayak. In his new role as Program Support Specialist, Jason hopes to ensure that everyone he meets, feels safe, supported and included. His extensive knowledge of the property and passion for environmental education, will surely provide the best possible experience for students, counsellors, staff and guests.
Mya Bordeau
Cultural Education Facilitator

Mya was very excited to join Cheakamus Centre this fall as a new Cultural Education Facilitator. This past summer, Mya participated in an intensive 4-week Indigenous Youth Cultural Interpreter summer training program held at Cheakamus Centre. She developed many instructional skills through this program and is elated to be able to provide interpretation to students and adults alike. Mya's Skwxwú7mesh Nation background and knowledge in traditional dancing, drumming, singing, cedar weaving, and other traditional teachings will provide a unique experience for students and guests that visit Cheakamus Centre. Mya has previous experience working as a youth leader for the spring break camp at the Chief Joe Mathias Center and is looking forward to sharing her obtained knowledge; but also feels fortunate to be able to increase and advance her skills as she continues this journey.
Marissa Carlberg
Field School Program Leader

Marissa is thrilled to be joining the very talented program team at Cheakamus Centre as the new Field School Program Leaders. She brings with her an extensive knowledge in guiding in both hiking and star-gazing in New Zealand; in addition to her previous work experience as a snowshoe guide for Whistler Blackcomb Snowmobile. Marissa's previous work experience as a Counsellor Supervisor and Day Camp Program Coordinator at the YMCA Camp Pine Crest will prove invaluable in her new leadership role at Cheakamus Centre.
Marissa really enjoys exploring nature and expanding her knowledge of the wildlife found in our forests. She hopes that her compassion and positivity will provide a memorable experience for all who visit Cheakamus Centre. She expects to help those she works with see the value in the natural world and guide them in making meaningful connections with not only their peers, but with life outdoors as well. She is excited to inspire students and spark their curiosity, while allowing them to share their voice. Marissa's ability to identify an individual's strength, and her capacity to encourage them to lean into those strengths and build confidence in outdoor environments, will all contribute in providing a positive experience for all who visit Cheakamus Centre.
Nicola "Aura" Cartwright
Head Counsellor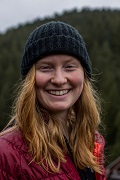 Nicola is a long running volunteer at Cheakamus Centre through counselling as a high school student and alumni, as well as being a trainer for new counsellors this past year. She also comes with a variety of experiences working with children and youth, such as an out-of-school-care worker at the Quadra Village Community Centre, a Youth Engagement Worker/Practicum Student at Pauquachin First Nations, and Intern at the tAU, WELNEW Tribal School.
During her time at Cheakamus Centre, Nicola hopes to use her ability to relate and connect with people and her knowledge of the property and programs to provide the best experience for students and counsellors who visit the centre. Nicola's appreciation for the natural world and her capacity to integrate indigenous ways of knowing, doing, in every experience are all ways in which she hopes to contribute to a positive customer experience as the new Head Counsellor for the Outdoor School program at Cheakamus Centre.
Rosie "Alpine" Dyer
Teacher

Rosie is native to Great Britain and emigrated to Canada in 2012. Since that time, Rosie has followed her passion for the outdoors in roles that encompass; snowshoe guiding, teaching for a forest school and instructing the Wilderness Program at Mount Seymour. In these roles, she was introduced to both experiential and emergent learning. As a life long learner, Rosie went on to complete her teacher training with a minor in Environmental Education, and is currently studying her masters in Nature Based and Place Conscious Practices, both through Simon Fraser University. Rosie has a passion for adventure, and an aspiration to facilitate connections with the natural world in children. When she isn't teaching, you will find Rosie hiking, kayaking, canoeing and snowboarding. Rosie's teaching practices are rooted in Indigenous ways of knowing, and place-based practices.
Erica "Tundra" Ellis
Environmental Program Coordinator

Erica earned a Bachelor of Science degree with Honours in Natural Resources Conservation from the University of British Columbia. Her professional experience includes working as an education guide at the Sea to Sky Gondola in Squamish, and in a supervisory role with Grouse Mountain in North Vancouver. Erica has detailed knowledge of the region's flora and fauna, and proven experience in leading and mentoring youth. Erica is a life-long learner and is looking forward to sharing her passion for the natural world with visiting students and teachers.
Alice Tsawaysia Spukwus Guss
Cultural Education Facilitator

We are thrilled to have Alice "Tsawaysia Spukwus" join us for another year of programming at the longhouse. Alice is masterful at bringing innovative learning opportunities to all people through workshops, drumming, singing, dancing and storytelling. She is a member of the Squamish First Nation and is actively involved in the preservation of her language, culture and heritage. Alice brings over twenty years of education experience in First Nations communities as a director of education and an employment coordinator, and as an instructor of traditional arts and crafts. She is an avid participant in healing Tribal Journeys, and co-produced several documentaries including Squamish Nation: Stories from the Heart, Tribal Journeys, and Riding with the First Nation's Snowboard Team . During the 2010 Olympics she coordinated her family's sea-going canoe display, Pekultn, in honour of her father. Alice is learning something new everyday and keen to share her knowledge with visiting students, teachers, and parents, to continue to have a positive impact.
Harriet "Skye" Haines
Program Leader

Harriet earned a Bachelor of Science degree with Honours in Sport and Exercise Science at Leeds Metropolitan University, in England. She enrolled in elective courses in outdoor education and outdoor adventure activities where a love for outdoor education was inspired through designing and teaching programs in the forest to visiting school children. She has also gained experience leading physical exercise and outdoor activities in a variety of different schools across South West London, as well as led and organized whole-school sports days which included training and coordinating 15 sports leader volunteers from the neighbouring high school. In her new role as Program Leader at Cheakamus Centre, Harriet hopes to consistently provide a warm, welcoming approach and quickly build positive relationships with students and visitors to ensure their needs are catered for and that their experience is seamless, meaningful and memorable. Harriet is a life-long learner and is looking forward to sharing a love and appreciation for the outdoors/being in nature.
Matt "Rapid" Houston
Program Manager

Matt has worked in the field of outdoor education for over a decade and brings experience from several different organizations. Matt began working primarily in adventure education and progressed to leading expeditions throughout Canada and internationally. Previous work experience includes: YMCA Camps, NOLS, Outward Bound, the Outdoor Education Group and Boreal River. Prior to joining the Cheakamus team, Matt was the Director of Outdoor Education at YMCA Camp Pine Crest in Ontario. Matt's education includes a BSc. in Environmental Science and an MES. in Nature Based Recreation and Tourism. When not at the centre, Matt spends as much time as possible climbing and kayaking in the Sea to Sky corridor. Matt is thrilled to have joined the Cheakamus team as the new Program Manager and looks forward to helping facilitate valuable experiences for everyone that visits the site.
Rachel "Cricket" Lansman
Environment Education and Leadership Intern (EELI)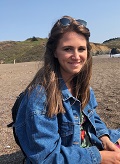 Rachel is a current Quest University student working towards a Bachelor of Arts and Sciences. Rachel comes with a variety of experiences working with children and youth in varying capacities and she has extensive back country experience. Rachel's previous experience includes working for Planet Granite S.F and Sausalito Yacht Club as a Youth Program Instructor. In addition, she worked as Trip Leader for the Quest University Adventure Club.
During her time at Cheakamus Centre, Rachel hopes to gain knowledge and experience in environmental education and develop a better understanding of how we can inspire meaningful and lasting connections of nature for children. She hopes that she can facilitate in fostering a love and appreciation for the natural world for the students who attend Cheakamus Centre. One of Rachel's greatest strengths is her sense of humour. She hopes to contribute to a positive customer experience through her positivity, excitement, and fun spirited personality. Rachel is thrilled to learn more and grow as an outdoor educator in the coming month.
Pam Leech
Cultural Education Facilitator

Pam is thrilled to have joined the Cheakamus Centre cultural program team as a Skwxwú7mesh (Squamish) First Nation's culture interpreter, so she can share her extensive knowledge and skills to students and guests who visit Cheakamus Centre daily. Pam has 24 years of experience at City Hall in Human Resources and Administration. In addition to her time at City Hall, Pam also participated in work exchange programs and direct volunteering for a yoga studio and meditation centre in Squamish. She is very comfortable with cedar weaving, and most of her experience is in making beautiful cedar top hats. Pam's professional goal is to be a positive role model in teaching guests about Coast Salish history and cultural practices, and her personal goal is to learn more of the Skwxwú7mesh Nation language. When relaxing, Pam is enjoying life as a mother and grandmother.
Heidi "Glacier" Lessman Simm
Teacher

Heidi was thrilled to join the Cheakamus Centre Outdoor School Program as a Teacher. Heidi completed her degree in Geography and Natural Resource Management at the University of Northern BC and started her career working with BC Parks and Water Resources. She was introduced to teaching experiential, environmental and outdoor education in New Zealand and the Yukon Territory. These experiences as a teacher were transformative and she has worked with a variety of schools and experiential education programs in BC ever since. Heidi has worked with programs such as the Sea to Sky School for Sustainability Education, the Explore Program at Collingwood School and the Sea to Sky School District. She has also designed and delivered Zero Waste and Sustainability Workshops in the Squamish to Lillooet Region for several years. Heidi recently completed Mindfulness for Educators Training. She believes that spending time in nature is a perfect classroom for mindfulness. When Heidi is not teaching she enjoys spending time in the forest or by the ocean with family and friends.
Aura Sesemay Lewis
Cultural Support Worker

Aura is excited to be back for another year to support the cultural programs at the longhouse. Aura has a genuine artistic talent, including over ten years experience with wool and natural and Indigenous dyeing techniques. A lifelong learner, she loves sharing with others her growing knowledge of native wild edible and medicinal plants. Aura is committed to supporting inclusive, authentic, and joyful learning experiences for all students, and helping to instil a deeper understanding and respect for Skwxwú7mesh (Squamish) First Nation culture. In addition to her work at the longhouse, Aura contributes in other experiential learning areas, most recently coordinating the student gardens and the new Farm-to-Plate program. Previously, Aura worked for the YMCA where she led multi-day hiking, camping and canoeing trips. Aura resides on property with her husband and two young daughters, a dog, two adopted rabbits and the occasional transient bear.
Emily McDermott
Field School Program Leader

Emily is excited to share her love and knowledge of the natural world with students and visitors of all ages. Emily brings with her a variety of outdoor education knowledge. Her previous experience includes working as a Sea Kayak guide, Raft guide and Canoe Tripper.
Emily is an enthusiastic and knowledgeable leader with excellent communication and organizational skills. She is very keen to contribute and expand on her knowledge of First Peoples culture and history and learn more about farming practices and hatchery procedures at Cheakamus Centre. She is confident that her adoration of nature and the outdoors will encourage a love and respect of the environment to everyone that she works with in her new role as Field School Program Leader for Cheakamus Centre.
Temma "Poppy" Shandon
Counsellor Supervisor

Temma is a familiar, friendly face at Cheakamus Centre. Temma is an avid volunteer and has held the roles of High School Counsellor, Counsellor Trainer and Environmental Education Leadership Assistant. She has also worked as a Camp Counsellor for Grouse Mountain Resort and the Paradise Valley Summer School of Visual Arts. Other volunteer experience includes School Program Assistant at the Lynn Valley Ecology Centre and Coach for the Carson Graham Improv. In her role as Counsellor Supervisor, Temma assists the program team with afternoon and evening programming, and acts as a mentor for youth volunteers. Temma's goal is to carry on the lineage of fun and approachable senior counsellors that positively impacted her as a high school counsellor.
Cassandra "Cascade" Storey
Program Administrative Coordinator

Cassandra earned a Bachelor of Science in Natural Resources Conservation from the University of British Columbia. Her professional experience includes working as a community engagement coordinator with Fresh Roots Urban Farm Society, and as an aquatic research technician for Fisheries and Oceans Canada. Cassandra brings to her role proven leadership experience in mentoring volunteers and interns, and building strong community relationships.Cassandra is looking forward to using her stellar communications and organizational skills to assist teachers in pre-visit preparation to ensure a seamless and memorable education experience for visiting students and teachers alike. Cassandra is an outdoor enthusiast and can also be found out in the field helping with program delivery, or spending her spare time with the goats, salmon, and other wildlife that call Cheakamus home.
Natasha "Mountain" Way
Program Support Specialist

Natasha has extensive experience working in outdoor education and was thrilled to join the Cheakamus Centre programming team in the position of Program Support Specialist. Natasha's previous work experience as an instructor and guide, include working for North Cascades Institute, The Adventure Group and Stewardship Pemberton Society. In her new role at Cheakamus Centre, Natasha's knowledge in teaching children in an outdoor setting, as well as local species of flora and fauna, will prove invaluable in providing an unforgettable and positive experience for students and visitors.
Matthew Williams
Cultural Education Facilitator

Matthew Williams has spent much of his childhood at the longhouse at Cheakamus Centre, supporting and teaching the Skw'une-was program since the age of 13. His grandmother, Keek-yik (Ann Billy) first introduced him to Skwxwú7mesh teaching methods and guided him in the development of his practice by learning directly from family members. In addition to his on-going contributions to provide outstanding indigenous cultural education at Cheakamus Centre, Siýám ken was also a key member of the Squamish Lil'wat Cultural Centre project and provided cultural interpretation mentoring to Aboriginal Youth Ambassadors in preparation for the 2010 Olympics. Leading by example, Siýám ken shares singing, drumming, fishing, woodworking, cedar weaving and ancestral language skills with thousands of students ensuring the continuity of these practices and inspiring others to learn more. Siýám ken is an avid road cycler, music curator, and is on the path to become a fluent Skwxwú7mesh language speaker.

Henry Williams
Cultural Education Facilitator

Henry Williams is a key member of the Skw'une-was instructional team. He brings a wealth of knowledge related the history and practices of Skwxwú7mesh people; including a deep understanding of the geography of the region. In addition to teaching activities here at the Cheakamus Centre, Khapquolanogh contributes to archeological, mapping, and historical projects for Skwxwú7mesh Nation in collaboration with a range of post-secondary institutions. His family has lived in this area for centuries and Khapquolanogh frequently shares information about points of significance and family markers. He is a proud father and grandfather who demonstrates through his actions that a life-long commitment to learning, leadership, and community-building has the power to transform and shape a better understanding of the importance of indigenous knowledges. When relaxing, Khapquolanogh is likely to be volunteering at one of a number of organizations he contributes his time and energy to or spending time outdoors.