Meet Our Team
*in alphabetical order
We are delighted to introduce our Operations Team who will be ensuring our guests have a fun and memorable experience while at Cheakamus Centre. Joining Jason, Wade, Steven, and the rest of the core team are the amazing staff members who are multi-talented and bring many years of experience and passion to their positions:
Vanessa Atkinson
Wedding and Banquet Manager

Vanessa was born and raised in Vancouver, BC and began her journey in the hospitality industry at the age of 17. Since then, Vanessa has worked in different parts of the industry and at various establishments in and around the city. Some recent experiences include: Catering Manager at Whistler Cooks, Food & Beverage Manager at the Pan Pacific Whistler, and Wine Buyer/Manager for Liberty Wine Merchants. She was honoured to work with great mentors over the years, who taught her valuable leadership skills, as well as being passionate about what you do and the importance of providing an exceptional customer service. Vanessa really enjoys travelling and has fond memories travelling all over Asia, Europe, New Zealand, Australia, and Costa Rica. She even settled in the United Kingdom (UK) for four years, working for a busy high-end Italian bistro on the coast of Sussex. Vanessa loves and cherishes her two children, and on her free time you can find her outdoors creating memories with good friends.
Gabrielle Beaudoin
Booking Coordinator

Gaby is originally from Montreal, Quebec. Her passion for the outdoors led her to complete a Bachelor of Science in Environmental Sciences from McGill University.
Following her academic years, which included field research in Barbados and abroad in New Zealand, she moved to British Columbia to see what all the fuss is about. Five years later, along with a diploma in Event Marketing, she is excited to be joining Cheakamus Centre in the role of Booking Coordinator. Her passions include sailing, running, cooking, and reading a good book.
Amy Bender
Sous Chef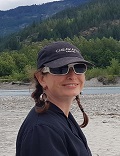 Amy graduated with a Bachelor of Science (honours) in Environmental Sciences and majored in Physical Geography with an area of emphasis in Economics. She spent 6 months working as a marine rescue and rehabilitation intern in the Gulf of Mexico, which almost led her to a career in Marine Biology! Amy's love of food brought her back and she has excelled in various positions of the culinary industry since, including kitchen management.
Amy began her employment with Cheakamus Centre in February 2018 in the role of First Cook. Since then, Amy has proven her commitment and dedication to the success of the kitchen at Cheakamus Centre. She has taken the initiative on several projects, including product development and off-site catering. Her natural leadership capabilities in daily kitchen operations, wonderful organization and administrative skills, along with her positive and energetic disposition has been vital in the growth of the kitchen at Cheakamus Centre. When not working, you can find Amy exploring the outdoors.
Marcus Ritchie
Maintenance Supervisor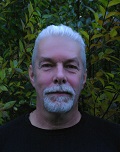 Originally from the UK, Marcus has traveled extensively throughout Europe and the United States, including South America. Marcus brings nearly 30 years of experience in maintenance, welding and fabrication. His main interests outside of work are, trail running, art, photography, 70's film and listening to jazz. Marcus also enjoys building custom pieces of steel furniture and random art works in his spare time. He has a love of nature and animals and after working for many years in the urban environment, finds peace and tranquility in Cheakamus Centre that is rarely found in the modern workplace. On the adventure that is life, he has acquired two children, two dogs and a cat.