LEED® Platinum BlueShore Environmental Learning Centre
The participants of the mission of transfer expertise on the use of wood material in construction, are unanimous to describe the result obtained for this activity as "very successful". The director, Mrs. Solange Moreau, as well as all the staff of the continuing education of the University of Quebec in Chicoutimi (UQAC) join me to underline and to thank you for all the support and your collaboration for the organization and the realization of this mission. For more than forty years, the forest and the wood material have been niches of excellence that we could define as part of the DNA of our University located in a region that represents more than thirty percent of the forest industry in Quebec. Once again, we sincerely thank you for providing us with your support and for making a significant contribution to the advancement of this sector of research and teaching activity that is important for our University and for all of Quebec's future.
~University of Quebec in Chicoutimi (UQAC)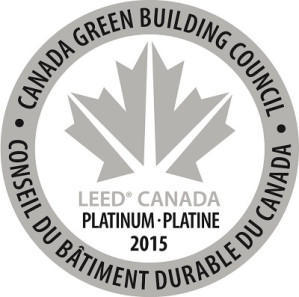 LEED® Platinum BlueShore Environmental Learning Centre

Surrounded by towering cedar trees and flanked by the Cheakamus River, the LEED® Platinum BlueShore Environmental Learning Centre (ELC) is a showcase for green building innovation. The building's raised floor and forest setting elevates visitors to the magic of the forest canopy. Sweeping views and large reclaimed timber beams create a dramatic venue to host education groups, conferences, workshops, meetings, weddings and special events.

Set in the heart of Cheakamus Centre, the 850-square-metre (9000-square-foot) ELC is a welcoming space featuring a large reception and dining area; multi-purpose classrooms; meeting, event and exhibit spaces; and an outdoor amphitheatre. The award-winning "tree-house" design features environmental principles such as geothermal water heating, a stormwater harvesting system and other green innovations to conserve energy and reduce the centre's environmental footprint. Visitors are immediately captivated by the modern aesthetic, with floor to ceiling windows and skylights letting in lots of natural light; and wood creating a warm and comfortable atmosphere.
A natural place for learning and creative inspiration, the ELC celebrates the unique character and history of the Ch'iyáḵmesh (Cheakamus) River and the Sḵwxwú7mesh (Squamish) area.

Click here for a look at the ELC building Layout and take a virtual Green Building Tour of the ELC!
Book your next meeting, retreat, camp or special event in this stunning venue today!