Accommodation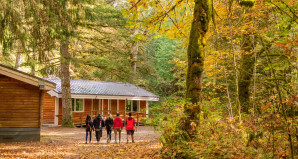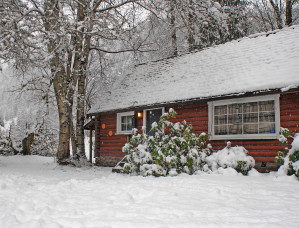 Get back to nature in Cheakamus Centre's comfortable year round lodging. Our log style cabins are tucked away in the forest, which make for peaceful surroundings reflecting life of simpler, less hurried times. Surrounded by nature trails, towering cedars and grassy outdoor spaces, Cheakamus Centre lets you experience nature in its truest form. Guests are to provide their own pillow, sleeping bag or bedding for twin sized bunk beds, towels, personal toiletries and flashlight. Linen service is also available.
Cabins:

Our 9 heated rustic cabins can house up to 139 people in a beautiful forested setting. Each cabin can accommodate from 12 to 18 people with 2 shared washrooms. Most cabins can be divided into two separate spaces using a central locked door. Each cabin is appointed with authentic nature-inspired décor. Cheakamus Centre has 2 wheelchair accessible cabins; providing a number of accessible bed for guests.
Click here for a look at the cabin Layout

Cheakamus Centre does not have private accommodations onsite, should you prefer hotel accommodation options for your guests, we are pleased to work with our hotel partners in Squamish on your behalf. Hotels are approximately 10 minutes by car from Cheakamus Centre.