Individual Volunteering
PLEASE NOTE, WE ARE NOT ACCEPTING NEW VOLUNTEERS AT THIS TIME.
We anticipate re-starting our volunteer program January 2022. Sign-up for our newsletter below and be the first to hear about volunteer opportunities.
________
If you love the outdoors and enjoy sharing a passion for nature with like-minded people on a flexible schedule, join our volunteer team now! Please complete the Expression of Interest form below, and we'll be in touch with you soon. Questions? Email us at development@cheakamuscentre.ca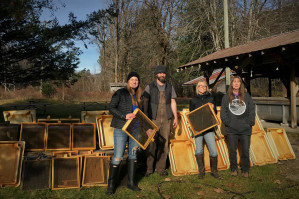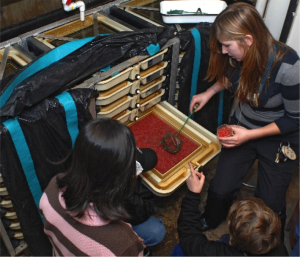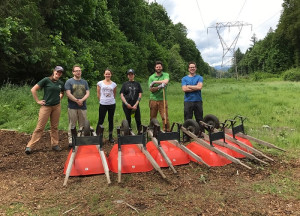 CURRENT VOLUNTEER OPPORTUNITIES
FARM & GARDEN HAND
Volunteers are needed year-round for routine and seasonal chores to support a small animal farm, fruit trees, edible gardens, honeybees and a greenhouse. Duties include seasonal garden and landscaping tasks, general maintenance, animal care activities such as feeding, grooming and socializing; cleaning enclosures, and other barn chores. Volunteers assist educators with school groups, and help with special events, fundraisers, and community events related to the farm and garden program.
HATCHERY HELPER
Volunteers are needed during the months of February - June to assist with a number of spawning hatchery operational tasks. Duties includes general maintenance, cleaning, and small infrastructure projects, feeding and releasing fry, and other tasks that support a teaching hatchery. Volunteers assist educators with school groups, and help with special events, fundraisers and community activities related to the salmon program.
TRAIL AMBASSADOR
Volunteers walk the trails year-round on a regularly scheduled basis and answer questions and offer information about Friends of Cheakamus and the Centre's educational programs and conservation activities. Volunteers assist with ongoing trail maintenance and serve as additional "eyes and ears" for land stewardship. Volunteers also assist with special events, and school and community trail activities.
OFFICE ASSISTANT
Volunteers provide valuable support "behind the scenes" to many departments: education programs, sales & marketing, facilities, and the Cheakamus Foundation. Responsibilities include data entry, archiving, managing files, updating paperwork and other documents, taking inventory, processing mail, answering phones, and performing other general office clerk duties and errands. Office Assistants also help with special events, fundraisers and Friends of Cheakamus member events.
NATURE EXPERT
Volunteers lend their knowledge and expertise to deliver talks and guided interpretive walks year-round on nature-related topics for Friends of Cheakamus member events and workshops.

​A whale of a thank you to RBC Squamish volunteers!
Helen, Lynette and Tahsis who did a fin-tastic job cleaning and sterilizing Heath trays at our teaching salmon hatchery in October. We reel-y love our volunteers! Get hooked on volunteering at Cheakamus and fill out the form below!
Adult Volunteer Application