Apples are in Session
August 31, 2018

Fall brings a whole lot of picking and preserving at Cheakamus Centre, as seasonal fruits and vegetables come into harvest. Picking apples as they ripen and collecting fruit that has fallen, helps to reduce human-wildlife conflicts. Click here to learn more about reducing human-wildlife conflict.
What happens to all of these apples?
Chef Wade and his culinary team have a personal commitment to sustainability. Cheakamus apples are used in our signature sauces, marinades, pie fillings, and baked goods. Apples are also served as healthy snacks for students and guests. However, we still end up with more apples than we can eat. The culinary team brainstormed a labour efficient way to utilize surplus apples to produce a consistent, tasty product.
They dusted off the Outdoor School apple press and started to play around a little...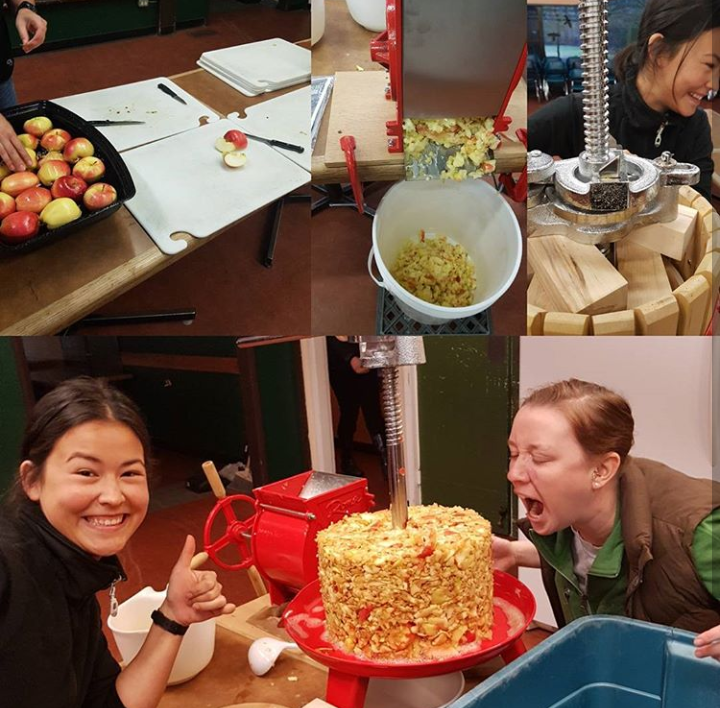 In fall 2017, apple pressing was piloted with the 4-Day Outdoor School program. A total of nine sessions were delivered to five different schools over two and a half weeks. At each session, three cases of apples were pressed, producing nine litres of fresh apple juice. The reward for participants was a sample taste "hot off the presses", and enough freshly pressed apple juice for the group's departure breakfast. A win-win-win: students get a delicious, healthy treat; Cheakamus adds a fun, experiential learning activity to its program offerings; and the local wildlife Conservation Officer is happy!
With summer winding down, we continue to harvest our apple trees. Apples are washed thoroughly to remove any contaminants, and then stored in cold storage. They are used through the fall and winter in Chef Wade's locally-sourced menus, and in the apple pressing program for an increasing number of students. If our apple supply should ever run out, we have partnered with local supermarkets and farmers to take their imperfect apples.
Together, we turn "unloved" apples and wildlife attractants into delicious, healthy treats!
Collaboratively Contributed by Cheakamus Centre staff: Executive Chef, Wade Rowland & Communications and Marketing Manager, Sepideh Tazzman