​A Taste of the Rainforest
October 31, 2019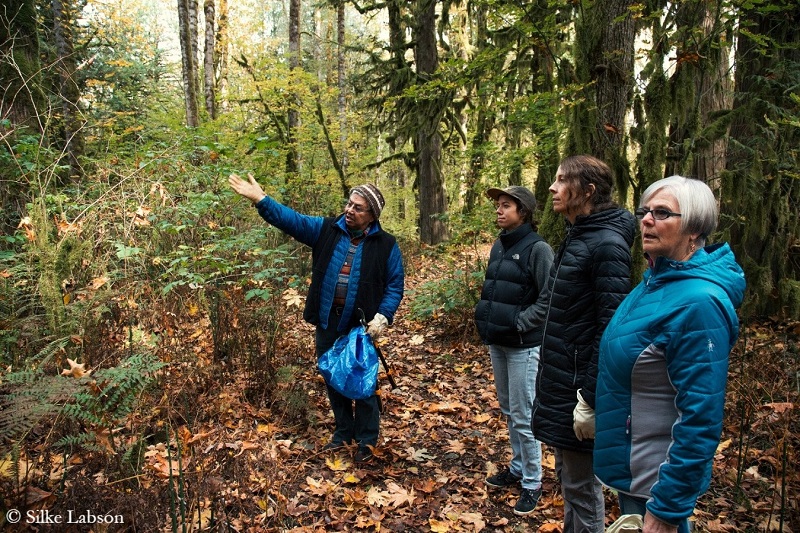 On a beautiful day in October, Friends of Cheakamus participating in the First Sunday program were provided with a glimpse of Sḵwx̱wú7mesh (Squamish) culture.
Khapquolanogh (Henry Williams), a Sḵwx̱wú7mesh elder, guided us into the lush forest to explore the wonders of the powerful Devil's Club plant. Providing words of knowledge gifted through generations, stretching back to time immemorial, his encouraging instructions, and nurturing teaching style set the stage for the group to better understand the important role of this medicinal plant and assisted us to prepare the hearts of the plant for healing purposes.

After spending time amongst the plants, we returned to the classroom where Khapquolanogh touched on his journey to re-connect with this sphere of traditional knowledge and his ongoing commitment to a deep understanding of the medicinal and spiritual elements of the health practices of his ancestors.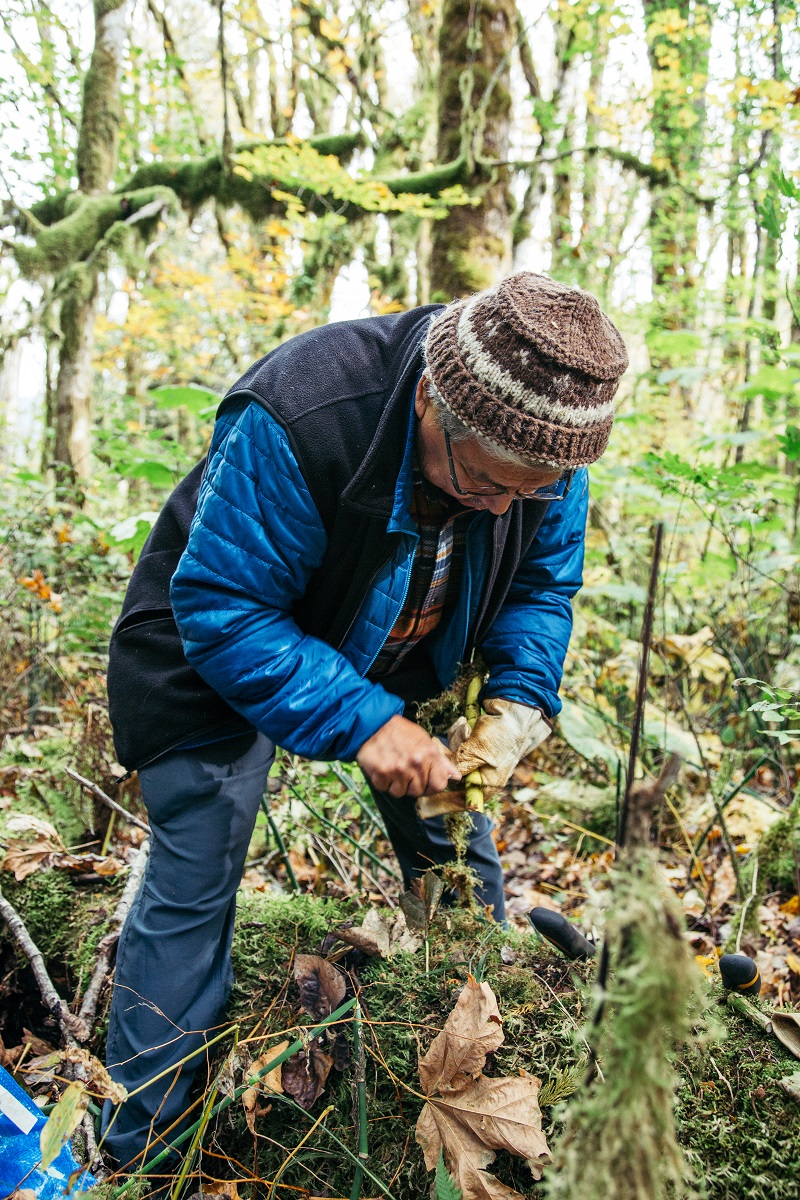 Inspired by a calling to assist his family to manage pain from ailments such as inflammation and arthritis, he began his journey as a healer.
Taking a moment from the preparation of materials, Henry's wife Jackie shared her heartfelt appreciation of his pursuit to help others and the life-changing healing methods that has played a crucial role in her recuperation.
While we received a freshly steeped sample of tea made from Devil's Club, the group noted the rich flavour that seemed to be infused with a sense of comfort.
Teresa Rowley, an educator at Cheakamus Centre described it as "drinking-in the rainforest".
Preparing our own samples of Devil's Club for use at home, Khapquolanogh inspired us to learn more and create space for those who share indigenous knowledge grounded in authentic practice. In an ongoing spirit of generosity, after enjoying our tea and finishing off our Devil's Club pieces, Khapquolanogh provided each person with salve.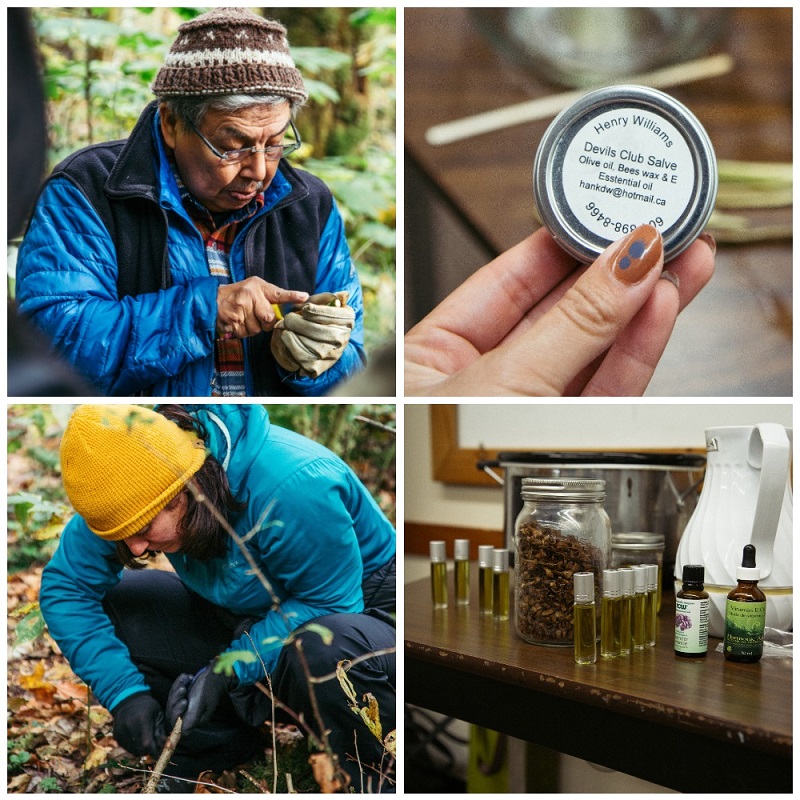 We are grateful to Khapquolanogh for taking the time to enable us to learn in a community setting, highlight how medicine is all around us, and teach us methods by which we can embark on our own healing journey.
During this critical time of Truth & Reconciliation in our country, Khapquolanogh's work demonstrates his commitment to sharing public forms of specialized knowledge, while acknowledging sacred elements, and his contribution to the process of decolonization. As we move forward together, Khapquolanogh's actions are a tangible reflection of the desire to contribute to a healthier way of life for all and a more vibrant society.
With experiences like these, Friends of Cheakamus gained a better understanding of a small slice of Sḵwx̱wú7mesh knowledge and how it can improve and enrich the lives of everyone in our community.
As stated in the Truth & Reconciliation report, "Education is the transmission of cultural DNA from one generation to the next. It shapes the language and pathways of thinking, the contours of character and values, the social skills and creative potential of the individual. It determines the productive skills of a people." (RCAP 1996)
Photos courtesy of: Silk Labson
Ch'iyáḵmesh village is one of many communities within Sḵwx̱wú7mesh Nation.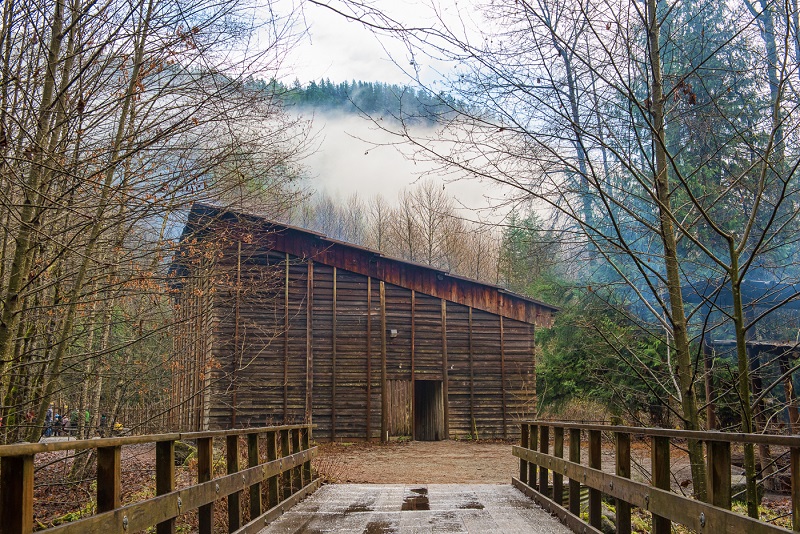 Located just a few minutes north of Brackendale, it is rich with creatures of the land, water, and sky. People who have lived in this area for generations celebrate the connection to the river and their families are collectively known as People of the Fish Weir. Cultural practices continue to thrive today, and community members generously teach their ways of knowing to thousands of adults and students each year through programs at Cheakamus Centre and specialized offerings through business endeavors.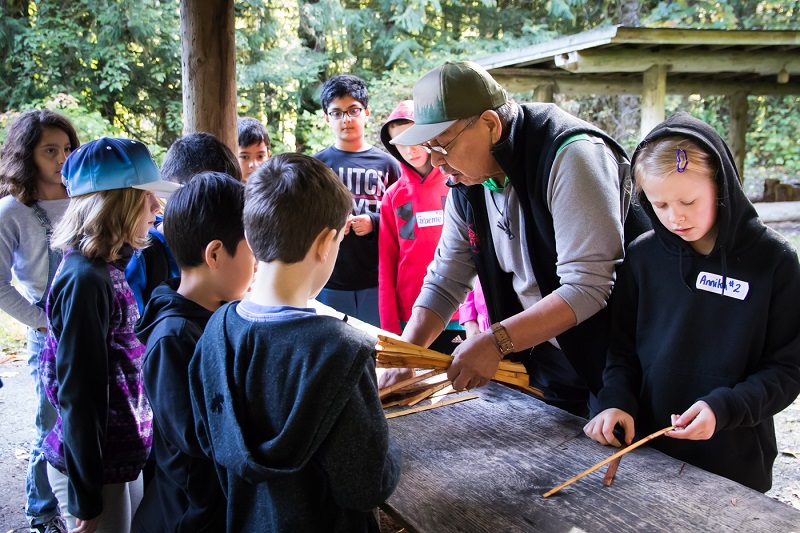 As a not-for-profit organization, one of the objectives of the Cheakamus Foundation for Environmental Learning is to create opportunities for the general public to learn about a range of topics related to nature from a diverse group of formal and informal educators.
We invite you to join us and the Friends of Cheakamus community. For more information, click here or contact Sarah Bainbridge at sarah@cheakamuscentre.ca / 604.848.5668.
To learn more about Khapquolanogh's workshops and products, contact him at 604-898-8466 or hankdw@hotmail.ca
Contributed by Cheakamus Centre staff: Senior Development Officer, Sarah Bainbridge