Past Events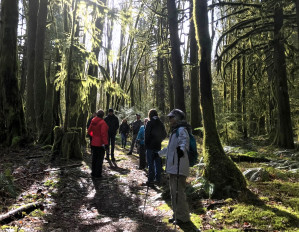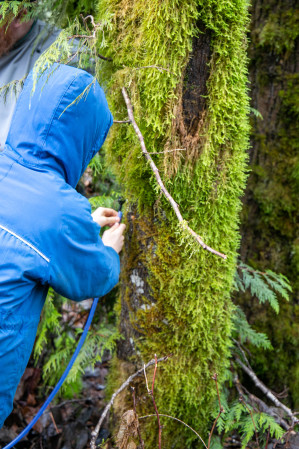 Photo credit: Friend of Cheakamus, Masumi Kikuchi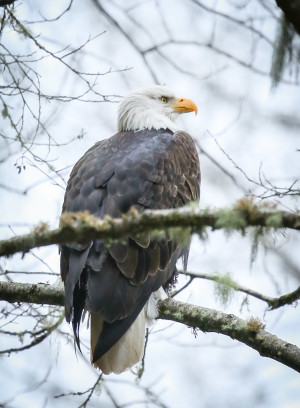 Photo credit: Friend of Cheakamus, Masumi Kikuchi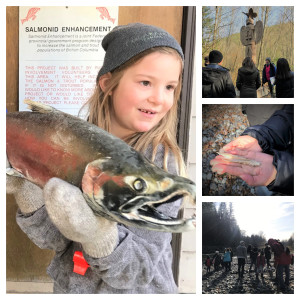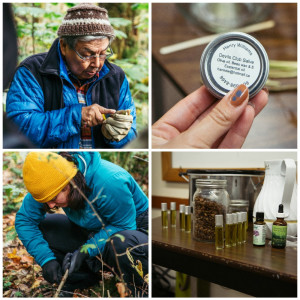 Photo credit: Friend of Cheakamus, Silke Labson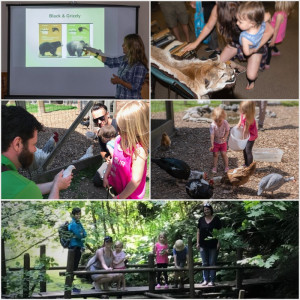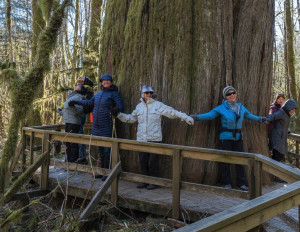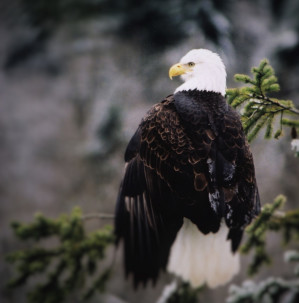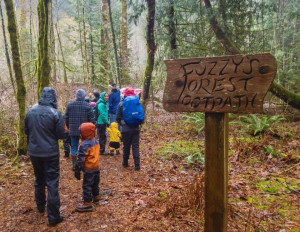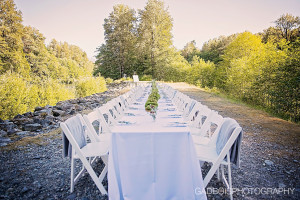 Photo credit: Friend of Cheakamus, Pascale Gadbois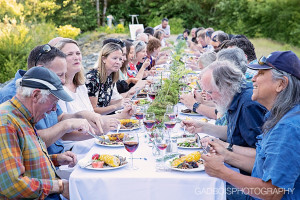 Photo credit: Friend of Cheakamus, Pascale Gadbois
​Everyone had a spring in their step at Friends of Cheakamus First Sunday forest walk on March 1st!
Members enjoyed a tranquil walk through the Enchanted Forest, with a fun detour to visit the eight new baby goats at the farm. Big thank you to Edith Tobe, habitat biologist and executive director with Squamish River Watershed Society for sharing how salmon keep our coastal rainforest thriving.
Thank you to all who joined us for our maple tapping workshop on Sunday, February 2nd!
It was a great day for hands-on learning about the process of tapping maple trees and making maple syrup. Big thank you to Chef Wade for leading this fun and interactive outdoor demonstration. Happy tapping!
A Memorable Day with Birds of Prey
Nearly 30 members joined us on Sunday, December 1 to walk among the majestic wintering bald eagles at Cheakamus. It was a truly unique opportunity to get a close look and learn fun facts about eagle behaviour and habitat with our talented education program team. Thank you to everyone who participated!
November First Sunday a Fin-tastic Day!
We had another great turnout on Sunday, November 3rd for our Friends of Cheakamus interpretive walk and talk. It was a perfect fall day for all ages to get outside and explore the life cycle of salmon, and view wildlife in its natural habitat. Along the way, we learned how other living things are connected to salmon and visited the teaching hatchery for some close-up, fishy fun! Big thank you to volunteer educator Kate Keogh who enthusiastically shared her wealth of knowledge of the area and inspired us all to love nature as she does.
Big thanks to all our friends who attended our first Sunday fall event!
On October 6th, an enthusiastic group of life-long learners participated in an interactive wild plant walk and talk with Khapquolanogh (Henry) Williams. Khapquolanogh guided us through the medicinal qualities and traditional uses of Ch'ích'aya (Devil's Club).
Big thank you to Khapquolanogh for a fun and memorable day of learning in nature. Also, sincere thanks to the kind folks who stayed on to help with leaf raking around the longhouse - much appreciated!
Family fun with flora and fauna!
June 9th First Sunday was a perfect spring day for Friends of Cheakamus members to learn about and explore the natural world in our own backyard. A special thank you to Wildlife Educator Meg Toom who kick-started our morning with an engaging talk and tips on how to mitigate conflict with bears and cougars while at home and out on the trails. The group then headed off on a forest walk to look for tracks and traces, and other signs of our wildlife neighbours. The afternoon wrapped up with a visit to the farm. Thank you to everyone that took part, and to staff members Aura and Steven for sharing their knowledge and pasion for the plants and animals of Cheakamus Centre. It was a fun-filled day of nature discovery for young, and young at heart!
​Life-long learners joined in conversation about the ancient system of potlatching.
We were blessed with a beautiful crisp winter's day to leisurely explore some of our less-travelled trails!
Thank you to all our Friends of Cheakamus members who joined us March 3rd for another successful First Sunday's nature walk. Special thanks to Edith Tobe from the Squamish River Watershed Society for providing an informative overview of fish habitat restoration and the important role salmon play in our coastal forests.
A hardy, enthusiastic group braved a blustery day for our inaugural Friends of Cheakamus First Sunday walk!
A Big thank you to all that came! Despite the stormy weather, we had a fascinating walk with Cheakamus staff, Siýám ken (Matthew Williams) and Aura Lewis, who shared with us the significance of the mountains, forests and rivers from a Skwxwú7mesh perspective. We were especially grateful to shelter from the storm inside the Longhouse, where we learned more about traditional activities and ways of life. A memorable experience for all!
In any weather, Cheakamus Centre is a magical place!
​Lovely Weather for Ducks for the 2nd Annual Eagle Walk
The rain did not ruffle any feathers at the Friends of Cheakamus 2nd Annual Eagle Walk on Sunday, December 9th. Nearly thirty nature enthusiasts gathered at Cheakamus Centre for the last member event of 2018, including several young, budding birders!

It was a bird watcher's paradise with bountiful bald eagles in the trees overhead, a variety of waterfowl in the ponds, and many shorebirds feasting on spawned-out salmon carcasses along the riverbanks.
Thank you to our walk leaders Jason Bigelow, Erika Ellis, and Kate Keogh who shared their experience and knowledge in fun and engaging ways for all ages. A special thank you to master carver Xwalacktun (Rick Harry) for telling the story of the Reconciliation House Post for a lucky few!
It was a delight to walk among these magnificent birds of prey with our friends of Cheakamus. Thank you to everyone who attended.
Keep an eagle eye on our website for upcoming member events as Cheakamus Centre celebrates its milestone 50th Anniversary in 2019.
The inaugural River Feast: Walk on the Wild Side was a delicious success!
Fifty-five guests shared in a progressive-style dining experience that culminated with a long table feast on the banks of the Ch'iyák-mesh River. Guests enjoyed a seasonally inspired menu that was thoughtfully prepared by Chef Wade and his culinary team. We were honoured that Xwlacktun (Rick Harry) provided a traditional welcome. A special thank you to our event sponsors: BlueShore Financial, Pacific Salmon Foundation and RDC Fine Homes; and to our station sponsors: Backcountry Brewery, Fort Berens Estate Winery, and Spirit Bear Coffee Company. It was a magical evening, and we look forward to seeing everyone next year. More pictures can be found on our Facebook page.
"Your location there at Cheakamus Centre is so beautiful and full of spirit. So special. I really loved the experience."
~Marie-Anne Prevost, River Feast Guest, Whistler, BC.
Grant Writing Workshop a Success!
A dynamic group of people representing arts, education, environmental, and health organizations came together to explore the world of grant writing in a workshop held in June. During this collaborative session, participants shared information about critical projects, moved through the grant writing process, identified resources, and even started to think about how to celebrate the completion of these initiatives.We look forward to seeing the implementation of these important programs that will enhance the quality of life for thousands of people throughout the corridor!
Earth Day: A Unique Friends of Cheakamus Special Event!
What better way to spend Earth Day then at Cheakamus Centre for an exclusive Friends of Cheakamus event! Friends gathered for a beautiful forest walk and experienced a day of exploration and discovery, led by volunteer experts.
Wintering Bald Eagles Walk - A Friends of Cheakamus Event was a Success!
On January 6, 2018 more than two dozen adults and children gathered at Cheakamus Centre for the first Friends of Cheakamus members' event of the year – Wintering Bald Eagles Walk. After fueling up on hot coffee and freshly-baked bannock, the group headed out in the field. Members viewed bald eagles close-up in their winter habitat, and learned about the unique ecology and wildlife of the area from volunteer experts Victor Elderton and Kate Keogh. Vic and Kate shared their knowledge and enthusiasm in a way that intrigued adults and children alike, and opened everyone's eyes to the wonders of these magnificent birds of prey. Jason Bigelow, longtime Cheakamus friend and talented birder, also came along and helped with bird identification. The rain held off and there was a good handful of sightings on this easy-paced, highly interpretive walk along the Cheakamus River dyke trail.
Everyone had a great time and this event was so successful that we will be hosting a spring nature walk for Friends of Cheakamus members when the weather warms. Stay tuned!
"An amazing day! Learning about eagles from engaging experts in the field. I'm looking forward to the Spring event." ~ Luke Smeaton from SD 44 - Manager of Sustainability, Energy & Environmental Planning
"I have been telling everyone who will listen that they should become a Friend of Cheakamus so they can check out the next event - and bring their kids!" ~ Steph