Outdoor School Counsellors
Co-counsellors, staff, campers, and anyone else involved with [Cheakamus Centre], thank you for all that you have given me, I will never be the same. - Grade 12 student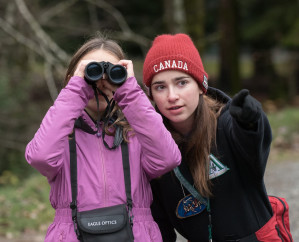 Counsellors are at the heart of Outdoor School
Become an Outdoor School counsellor for the 2023-2024 school year!
Grade 10-12 high school students act as youth leaders and role models for visiting students. They lead afternoon and evening activities, assist teachers on field studies, and foster a strong connection with kids in their cabins.

Confidence and leadership skills are built through training weekends and on-site mentoring by staff, alumni and experienced peers. Counsellors strengthen their communication and team-building skills as they help create a fun, inclusive environment for everyone.

Along with a new counsellor name, many gain a sense of community, purpose, and deep connection to the natural world they are immersed in. Some counsellors even gain work experience hours (for more information on this, please talk to your school counsellor).

For many who visit Outdoor School, their counsellors are what they remember most, along with the baby goats. This legacy of youth leadership, from visiting students to counsellors to alumni, is a foundation of Outdoor School.
Click here for more information on the process to become an Outdoor School Counsellor.
To request a Letter of Reference, please email odsleaders@sd44.ca
Apply Now: fill out the webform below to apply to be an Outdoor School Counsellor!
Student Volunteer Application